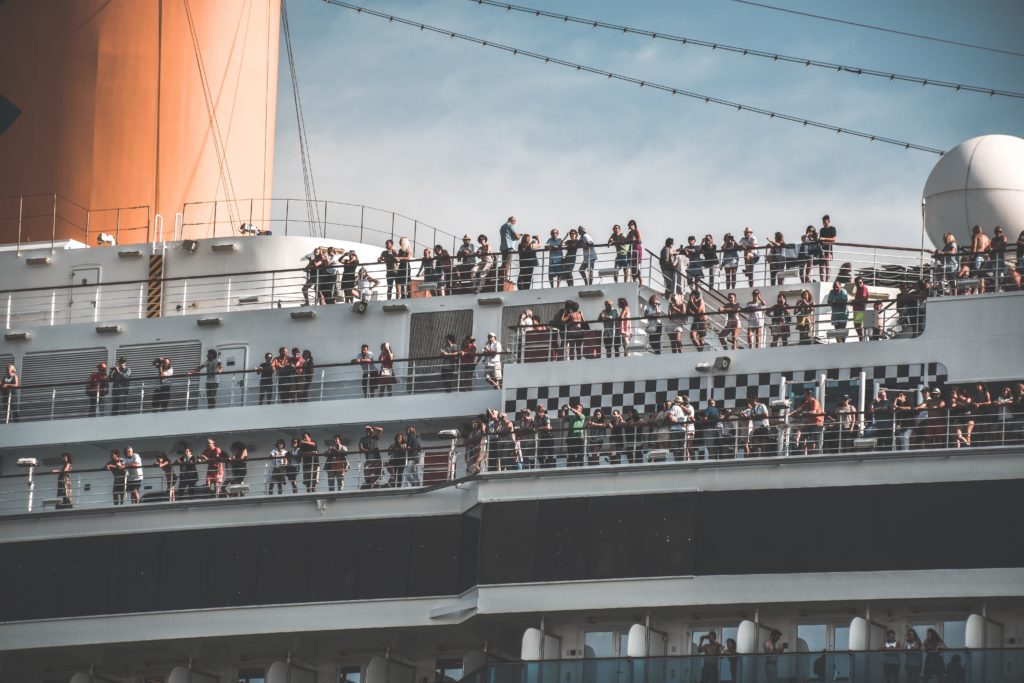 The cruise industry exploded in the early part of this century with revenue tripling from 2000 to 2015.  Strong demand is forecasted to continue into the foreseeable future.  At the same time, attitudes toward onboard Wi-Fi have undergone a radical shift.  No longer contented to log onto the Internet to just check email or look up information, travellers expect to be constantly connected.
As a result, onboard Wi-Fi rapidly transitioned from a desirable novelty or luxury to a must have necessity. And it can't be just any onboard Wi-Fi.  Passengers demand seamless, reliable connectivity that lets them browse and stream without interruptions.
Cruise lines that meet the challenge have a significant competitive edge.  But to deliver consistently fast, reliable Wi-Fi onboard cruise ships presents daunting technical challenges.  Once a ship ventures a few miles offshore, satellite is the only option.  Satellite Internet is not just costly.  It's notoriously inefficient due to high latency, frequent packet loss, and jitter.
Further complicating the challenge is the insatiable growth in Internet traffic driven by the popularity of video on social media.  According to the 2018 Ericsson Mobility Report, total mobile data consumption will increase 600% from 2017 to 2023.  During the same period, video on the Internet is projected to surge by over 800%.
More bandwidth is not a long-term solution.  Just as new highways lead to more traffic, faster Internet increases use. Over time, demand always outstrips supply.  The solution requires traffic management tuned to the unique user profile of travellers.
Traditional WAN optimization was developed for business applications.  Its strong suit is moving data between offices and/or cloud resources.  It was never intended to optimize public Internet traffic.  Further, video makes up about 60% of Internet content today.  Given that video is highly compressed and most video sites encrypt their connections, traditional WAN optimization technology yields limited benefit for onboard Wi-Fi networks.
The solution is to limit onboard Wi-Fi traffic to the content guests want.  RebelRoam does this and more by:
– Blocking telemetry and traffic generated by apps running in the background of smartphones – activities like backups, software updates, and torrents.
– Locking streaming video to lower screen resolution with per flow pacing.
– Controlling read ahead buffers to limit the amount of unviewed data downloaded to phones and laptops.
– Mitigating the impact of high latency, jitter, and packet loss common to wireless networks using cutting edge TCP acceleration and load balancing.
As a result, data traffic is cut in half.  And when you regain 50% of your network capacity, even videos and music play smoothly.
Positive results are why over 30 transportation leaders across the travel industry choose RebelRoam to maximize their passenger Wi-Fi experience.  Companies like Uniworld River Cruises, Flixbus, The Go-Ahead Group, and AirAsia rely on RebelRoam traffic optimization to exceed the expectations of approximately three million connected passengers each month.
Meet with RebelRoam
RebelRoam will be in Miami April 8 – 11 for the Seatrade Global Conference.  Representatives will be available to explain how RebelRoam optimization improves the onboard Wi-Fi user experience, reduces data consumption, and lowers the cost to serve.
To schedule a meeting email [email protected].