Estonian start-up RebelRoam has developed technology which optimises the data consumption of onboard wi-fi networks, opening up the potential for video streaming which is typically blocked by most transport operators. A trial with passenger operator Elron has showcased its potential in rail applications.
It is perhaps no longer news to point out that travellers increasingly expect fast, reliable and seamless wi-fi connectivity wherever they are, including when they are on the move irrespective of mode of transport. This poses a challenge for transport companies, especially train operators which must provide connectivity over long-distance linear networks where telecoms connectivity fluctuates markedly. The problem has been exacerbated in recent years by the emergence of video, rather than text or audio, at the heart of the online media proposition.
Video content now makes up more than half of all internet traffic, and 70% of online video comes from five platforms: Facebook, Instagram, Snapchat, YouTube and Netflix. Market research by telecoms supplier Ericsson suggests we are only at the start of the video boom: streaming is projected to increase by 400% by 2022. This is going to cause a major headache for transport operators; such an explosion in demand will put huge pressure on their mobile wi-fi networks and the associated costs.
The response of most operators to date has been to block heavy bandwidth content, or to cache a limited amount of content onboard, but this option simply ignores the popularity of online video and ensures that the operator cannot meet its customers' expectations. As such it is hardly a long-term strategy.
RebelRoam's technology is intended to allow operators to open up access to YouTube and other video streaming services without significantly increasing data consumption and congesting their telecoms network. Branded RebelRocket, the product uses proprietary Per Flow Queue technology and TCP acceleration to optimise onboard wi-fi connectivity. It has been designed to reduce the bandwidth usage of data heavy video streaming applications by up to 50%.
This approach slows own web traffic so that the network can handle more concurrent users. Video quality is automatically reduced to a preset level, for example standard definition instead of full HD. TCP acceleration works by modifying the universal traffic congestion control algorithm for wireless connections, both cellular and satellite, as these are notorious for higher latency. This enables videos and music to start instantly and to play without buffering.
Content filtering gives transport operators control over traffic on both the uplink and downlink. Restricting or eliminating undesirable data traffic, such as backups, software updates and torrents, frees up bandwidth for the content that matters most to passengers. Advanced filtering avoids potential legal issues, speeds the transfer of desirable material, and reduces total traffic.
RebelRoam has also developed a DNS-based filtering method to redirect traffic through its cloud-based proxy servers. These work with the existing onboard network equipment and do not require the installation of additional hardware.
Estonian implementation
As an Estonian start-up, RebelRoam has been deploying its technology with Elron, which operates suburban trains around Tallinn and regional services across the country. The former Elektriraudtee took delivery of a fleet of 38 Flirt multiple-units from Stadler in 2012-14, significantly enhancing the quality of local passenger services. Passenger numbers are increasing and the operator's satisfaction rating has improved accordingly.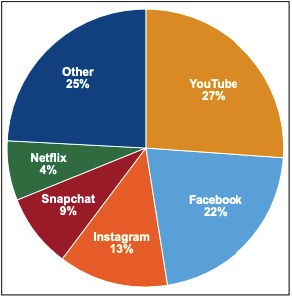 To sustain this progress in a highly digitally-enabled country, Elron has sought to enhance onboard connectivity by offering free unlimited wi-fi for both first and second class passengers, including the ability to watch YouTube and other streaming services. It has overhauled its wi-fi provision over the past four years, installing new access points and 4G/LTE antennas across the network while increasing the number of simultaneously-active SIM cards.
Elron's wi-fi service uses all three of Estonia's major mobile operators to achieve maximum geographical coverage, and load balancing is undertaken between available SIM cards to manage the data flow. The result is that today a passenger can travel across the country streaming their favourite Netflix show or YouTube channel without interruption (Fig 1). According to Elron's latest market research, more than 60% of passengers described the quality of the wi-fi service as good, up from 50% in 2017.
The deployment with Elron has helped RebelRoam to secure business with other transport operators including bus companies, ferry operators and airlines. Coach operator FlixBus has installed RebelRocket on 1 500 vehicles across Europe, reducing data consumption significantly and enabling price conscious passengers to use their allowances for longer.
RebelRoam is now in negotiation with train operators in several European markets, including the UK, with a view to launching further trials in rail applications.