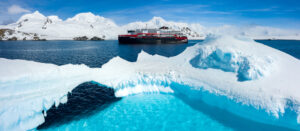 For immediate release: 30.03.2022
Hurtigruten Expeditions, a part of Hurtigruten Group, has completed the installation of RebelRocket Wi-Fi Optimization Services aboard their entire fleet of expedition cruise ships.
Hurtigruten Expeditions founded expedition cruising in 1896 and has a history of expanding boundaries.  They set standards for next generation expedition cruise ships with the innovative MS Roald Amundsen (2019) and MS Fridtjof Nansen, debuting in 2021. Hurtigruten Expeditions is the world's largest and leading expedition cruise line, with a fleet of six small-size new or fully upgraded expedition cruise ships designed to carry explorers in comfort to the most remote areas of the world.
Given Hurtigruten Expeditions' commitment to educating guests on all aspects of the pristine environments they visit (native peoples, plant ecology, marine life and more), the entire fleet features state of the art audio visual facilities and satellite communications.
Communications on expedition ships are always challenging given the remote nature of the destinations.  This is especially true at the poles – the extreme limits of satellite coverage.  To maximize performance for passengers and crew, Hurtigruten Expeditions deployed RebelRocket Wi-Fi Optimization Services.
"Expedition cruising is about adventure and education. We make every decision with the goal of maximizing the guest experience. That includes providing Internet to share daily experiences on social media. Given the limits and cost of satellite at the poles, we chose RebelRocket to improve Wi-Fi performance." said Kristoffer Halvarp, Product Owner of Security, Network and OT.
Hurtigruten Group's internal ITOT-team has the end-to-end ownership of all communication services onboard all ships. They have been instrumental in tuning and experimentation of the service.
RebelRocket makes onboard Wi-Fi faster for passengers and crew by managing the traffic going over the satellite link. Controlling smartphone behavior, video streaming resolution, and data buffers can remove up to 50% of the data on Wi-Fi connections. Reducing traffic over the network means more bandwidth for the activities guests and crew want from their link to the outside world.
"We are proud to have Hurtigruten Expeditions as our flagship expedition client because they routinely operate in the most challenging areas on the planet. Their experience with RebelRocket demonstrates that intelligent traffic management makes an important improvement to the passenger Wi-Fi experience", said Tarvo Topolev, RebelRoam CEO.
About RebelRoam
RebelRoam provides superior onboard Wi-Fi traffic optimization to over three million connected passengers every month.  Transportation companies across 40 countries operating 4,000 cruise ships, riverboats, ferries, motor coaches, and trains across forty countries realize the benefits that advanced Wi-Fi traffic management brings to their operations and their passengers.
Learn more about RebelRoam at: www.rebelroam.com 
Inquiries: [email protected]
About Hurtigruten Expeditions
With sustainability and exploration at core, Hurtigruten Expeditions founded expedition cruising in 1896. Today, Hurtigruten Expeditions is the world's largest and leading expedition cruise line.
Building on more than 125 years of experience, Hurtigruten Expeditions offers big adventures on small ships, taking guests to over 250 spectacular destinations in more than 30 countries worldwide – including Antarctica, Galapagos, South America, Caribbean, West-Africa, British Isles, Northwest Passage, Greenland, Iceland, Svalbard and the spectacular Norwegian Coast.
Hurtigruten Expeditions operates a fleet of small, custom-build expedition cruise ships, including the world's first battery-hybrid powered cruise ships.
Hurtigruten Expeditions is part of Hurtigruten Group, the world leader in exploration travel, which also operates Norwegian Coastal Express, known as 'the most beautiful voyage in the world' and extensive land-based activities – including hotels, restaurants and more – through Hurtigruten Svalbard.
Inquiries: [email protected]