For immediate release: 27 Feb 2020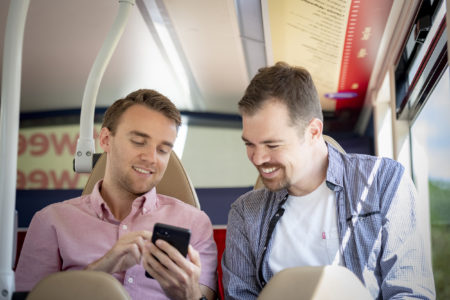 Passengers on Brighton & Hove and Metrobus' buses now have faster, more reliable Wi-Fi across the bus company's 436 connected buses.
The bus company has teamed up with Wi-Fi traffic specialist RebelRoam to dramatically reduce the amount of data the passengers use when they go online so that fewer passengers reach their session limits while they're on the bus.
RebelRoam does this by:
– Locking down the resolution of social media, YouTube and other streaming sites to standard definition. This results in smoother viewing and less data usage.
– Advanced filtering which stops background syncing when passengers connect to the bus company's Wi-Fi. This makes Wi-Fi faster and shrinks data consumption.
Brighton & Hove and Metrobus' Head of Customer Experience Luke Taylor-Sales said: "Our free Wi-Fi is already very popular with our customers. There are around 12,000 successful sessions every day on our buses, which shows how much customers value it. However, its popularity has put pressure on both bandwidth and speed, and this can affect the service passengers get.
"We know how frustrating it can be when the Wi-Fi on the bus feels a bit clunky. We've listened to what our customers say and we've found a practical solution through RebelRoam to give our customers a hassle-free Wi-Fi experience on our buses."
About Brighton & Hove Bus & Coach Company
Brighton & Hove Bus & Coach Company is one company comprised of three brands: Metrobus, Brighton & Hove Buses and Spirit of Sussex coaches, and a wholly-owned subsidiary of Go-Ahead Group.
Our purpose has not changed since we began in 1884: to give those we serve the freedom to connect with the people and places they value most so that they can live their lives to the full.
We operate 436 buses over 75 routes across Kent, Surrey, Sussex and Brighton & Hove and we were responsible for 67.5 million passenger journeys between June 2018 and June 2019, the highest number of passenger journeys in the UK per head of the population, outside London.
About RebelRoam
RebelRoam provides superior onboard/inflight Wi-Fi traffic optimization to over three million connected passengers every month.  Thirty transportation companies operating 2,000 cruise ships, riverboats, ferries, motor coaches, trains and planes across 38 countries realize the benefits that our service brings to their operations and to their passengers.
Learn more about RebelRoam at www.rebelroam.com
Press contact: Piret Vahter, [email protected]